An Introduction to Kayaks
As I am sure most of you are aware, I am an avid paddler. Canoe paddler that is. Kayaks, well I certainly know what they are and have spent a fair amount of time paddling them over the years. However my passion lies with the canoe. I must admit the rise in popularity of touring kayaks in the past few years has put me in the minority within the paddle sports world. Currently kayaks outsell canoes by a 3 to 1 margin. While I am certainly not an expert kayaker, I am comfortable giving an introduction and sharing a few thoughts on them.
Years ago when you spoke of kayaks it was assumed you were a whitewater paddler. This is how I got started. While this is still a popular form of paddling the major focus seems to be in flat-water kayaks. They are generally referred to as touring or sea kayaks.
In my opinion touring kayaks are hulls 12 - 16' in length. They tend to be broader beamed, slower, and easier to turn. The cockpit is generally quite large and therefore easier for the average person to get in and out of.
A true sea kayak is a big boat designed for the open ocean and/or expeditions. They tend to be 16' or longer, very sleek designs that are performance oriented. They track well and can attain very high speeds. The cockpits are generally smaller than most. They have lots of storage space both front and rear and usually have tie down straps laced over the front and rear deck. Turning tight corners is not an option with them although rudders are available on most models and come in handy when turning quickly is required.
As with canoes, kayaks come in a host of sizes and styles, not to mention colors and price ranges. The two main materials are polyethylene and fiberglass. The average poly boat will cost you between $600 - $800. Fiberglass will run from $1500 - $2500. The plastic hulls tend to be heavier and less expensive than the composites.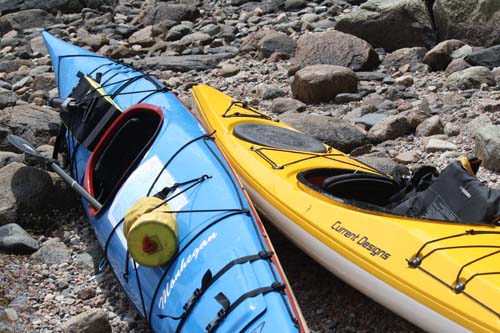 When I talk with people about paddling kayaks the biggest concern for the novice paddler is the fear of tipping over and once capsized, being trapped inside the kayak. Relax. Touring/sea kayaks are much more stable than they appear and you are not tied in. When it tips over, you will fall out. If you are an advanced paddler and wish to roll upright, you will have yourself braced to stay inside. I have given lessons to many first time paddlers and have not had anyone capsize yet.
One reason kayaks are so appealing to the average paddler is the speed and mobility they offer the individual. It is actually easier to get started and headed in one direction in a kayak vs. canoe. The double bladed paddle is a major part of this. Alternating strokes from side to side certainly allows for more speed and control. Be careful though not to develop bad habits. All to often I see people paddling their kayak, with what I call, a flat stroke. By this I mean the shaft of the paddle is parallel to the surface of the water. When paddling this way you are making a sweeping motion and forcing the kayak to swerve left and right with each stroke. Proper form is to position the shaft perpendicular to the water surface for each stroke. This will apply all of your energy in a direction that will propel the boat forward instead of side to side.
Again, coming from a die-hard canoeist, I must mention what I consider to be a few drawbacks to the sport of kayaking. What is not enjoyable for me is sitting in one for extended periods of time. Much over an hour and my back begins to stiffen up. Old age I am sure, regardless, it is uncomfortable. The other drawback I see with kayaks is portaging them. While you can certainly buy lightweight models, pound for pound they are more awkward to carry than a canoe. A 70 lb canoe is not much of an issue for me. A 70 lb kayak is a chore.
All in all they are great fun. I do enjoy paddling kayaks on occasion. It is especially enjoyable in the open ocean with lots of chop and/or heavy seas. For flat out speed, they are tough to match. While it would be tough to take one on a weeklong trip and enjoy the same comfort level as you would with canoe, they certainly have their place. In fact, there is one sitting in my garage right now.
Until next time, HAPPY PADDLING!!!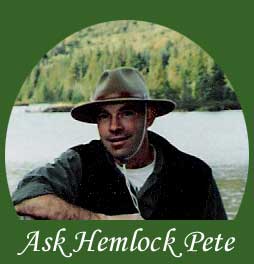 Have a question? I'm happy to answer it - just email me at hpcanoes@gmail.com


hpcanoes@gmail.com
603.667.5112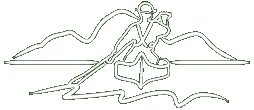 Welcome Paddlers! Whether you are a beginner, intermediate, or expert paddler, Hemlock Pete's Ultralight Canoes and Kayaks can help you chose the right equipment so you are ready to achieve your goals - be they for quiet water, rapids, racing, day trips, or camping.

We specialize in ultralight solutions and offer expertise in canoes, kayaks, and Wee Lassie boats, as well as all the related equipment. Our favorites are Wenonah canoes and Wee Lassie boats. Although we will work with any material we like to get folks set up with lightweight canoes and kayaks so you can dedicate your time to the joy of being out on the lakes and rivers instead of struggling to move your boat between car and water.

Scott Edwards, "Hemlock Pete" himself, offers you decades of paddling expertise. He is friendly, down-to-earth, and provides superior customer service. You won't find a better, or more pleasant, deal elsewhere.