History of Canoeing
Canoeing is a sport that can be enjoyed by anyone in many different ways. It might be a quiet paddle on a remote lake while fishing or just enjoying the scenery. How about loading up with a months worth of supplies and heading off to the interior of Labrador? Or maybe (like me) you enjoy rocketing down a river at seventy strokes per minute in a marathon. Whatever your style you will need three basic items. A paddle, a canoe, and a body of water (most of the time). On a monthly basis I will be writing articles discussing many topics related to canoeing. Through these I hope to increase your knowledge and enjoyment of the sport. If you are not already a canoeist, hopefully I can spur a little interest within you for a great form of recreation.
As I sit here in my living room staring at a Frederick Remington print of a birch bark canoe crossing a large windswept lake, it seems only appropriate to begin with a brief history of canoeing. Although birch bark canoes were not the first ever constructed, they are un-arguably the grandfather of the modern day canoe in North America. The first were in all likelihood, a dugout style carved out of a single log, usually cedar because of its easy workability and natural resistance to decay. The next were some very crude framed skin and bark hulls that led into the birch bark canoes built by the Indians of the Northeast. Developed and refined over many centuries, these native North Americans created a very versatile, functional craft, so much so that the basic design has never really changed. It is also interesting to note that even though the materials used to build these canoes were readily available on other parts of the continent and throughout the world and no one else put them to use. To the natives, the canoe was an essential part of their way of life, just as the horse was to the Indians of the plains. In both cases it was an efficient way for them to travel throughout the territory they inhabited. As the European explorers moved north, they too soon realized the value of this unique craft. They quickly adopted it for their own use in travel and exploration.
In the mid to late 1800's as more and more people traveled to the Northeast for work and sport, the demand for canoes grew. Somewhere in this time frame the wood canvas canoe was born in Maine along with its Canadian counterpart- the all wood Peterborough canoe. These canoes, although fashioned after the birch bark designs, used all wood or wood canvas construction. This was due partly to the availability of materials and also because it produced a more durable canoe. From the turn of the century up to World War II the canoe industry flourished. Its heyday being in the early 20's. At this point in time the industry was supplying two very different markets. One being the functional, working canoes used by guides, trappers, and sportsman up in the north, the other was purely recreational requiring a bit fancier canoe, one that put style ahead of performance. These canoes were much more ornate with long curved decks. They had wider beams and sponsons for stability. The in thing of the day here was to spend Sunday afternoon with your lady paddling and socializing up and down the river.
Many, many canoes were built during this period and many backyard shops grew into large factories. Some of the more well known manufacturers of the day were Old Town, E.M. White, Chestnut, and Peterborough.
With World War II over and having less demand for its aircraft, Grumman Aircraft Corporation experimented with some aluminum canoes. The experiment proved to be successful as they caught on and their popularity grew rapidly. It was not long before they dominated the market. In the 50's fiberglass was introduced. As techniques for construction improved, it to took a big share of the canoe market.
Today there are many styles and shapes of canoes available made with a variety of materials from wood to carbon fiber. In the months ahead we will address these topics and many more. Until then, Happy Paddling!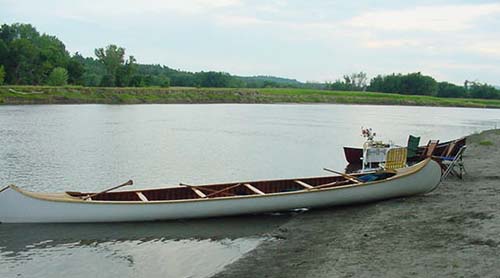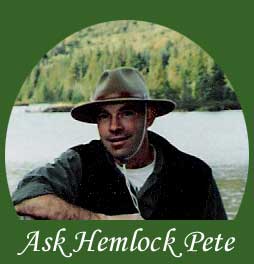 Have a question? I'm happy to answer it - just email me at hpcanoes@gmail.com


hpcanoes@gmail.com
603.667.5112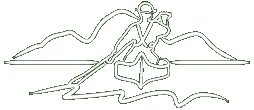 Welcome Paddlers! Whether you are a beginner, intermediate, or expert paddler, Hemlock Pete's Ultralight Canoes and Kayaks can help you chose the right equipment so you are ready to achieve your goals - be they for quiet water, rapids, racing, day trips, or camping.

We specialize in ultralight solutions and offer expertise in canoes, kayaks, and Wee Lassie boats, as well as all the related equipment. Our favorites are Wenonah canoes and Wee Lassie boats. Although we will work with any material we like to get folks set up with lightweight canoes and kayaks so you can dedicate your time to the joy of being out on the lakes and rivers instead of struggling to move your boat between car and water.

Scott Edwards, "Hemlock Pete" himself, offers you decades of paddling expertise. He is friendly, down-to-earth, and provides superior customer service. You won't find a better, or more pleasant, deal elsewhere.