A Christmas Dream?
Do you believe in Santa Claus? I do, always have, and after an experience I had recently, always will. It all began one night when I was having trouble sleeping. Counting canoes and paddles didn't even work. Maybe a snack will help I thought, so downstairs I went.
As I rounded the corner heading into the kitchen, there sat my dog. Tail wagging, drool hanging as she begged for cookies from the stranger sitting at the counter. "I've been waiting for you" he whispered, then asked me to join him for some milk and cookies. It was an odd situation and I was not quite sure how to react. I didn't feel threatened and obviously the dog had given her approval (she's a Lab, what would you expect?) so I took a seat and grabbed a cookie. There was a long silence as I munched away staring at this elderly man sitting in my kitchen. As I sipped down some milk I looked for clues as to who he was and why he was here. He said nothing, only smiled at me with rosy cheeks and a unique, comforting twinkle in his blue eyes. His head was covered with course, pearl white hair as was his face. He was wearing gray wool trousers, candy cane striped suspenders, a red plaid shirt, and a pair of red socks (he courteously left his boots at the back door). As the moments passed, still in silence, I grew more comfortable with this old fellow and his jolly smile. He began to look familiar to me, but I just couldn't quite place him.
After handing the dog another tidbit he turned to me and said, "Pete, I need your help".
"Who are you?" I asked. No response, he simply leaned back on his stool and began to talk.
"You are Hemlock Pete," he asked, "are you not"? Well, I do answer to that, so I nodded. "You know when I was younger, I spent alot of time in a canoe. Some of the greatest rivers in the world are right in my backyard. The Nahanni, Arctic Red, Bonnet Plume, Mackenzie. They all flow north, you know, to the Arctic. Unfortunately I don't have time for them anymore. You see I run a delivery service and it has grown to a point of overwhelming me. I 've even gone so far as to solicit help from the Marines and still can't keep up. There is a solution at hand though, and this is why I came to you."
"I've been reading your articles over the years. They not only revive memories of my past expeditions but are informative as well. As I mentioned before, it has been awhile since I've been in a canoe and it appears modern technology has made some remarkable improvements in their construction. Mainly reducing weight. I have resisted modernizing for many years but the time has come, less I go out of business. I have decided to replace my delivery sled. It is a classic and as such, just like an old car, heavier than hell and not very aerodynamic. I need a canoe." He chuckled and poked me in the ribs saying, "My eight old reindeer under the hood don't have quite the get up and go they used to."
"Wait a minute," I said to myself, " Arctic, sled, reindeer? Is this guy trying to tell me he is Santa Claus? I must be dreaming. Yes, that's it. Now it all makes sense, it's a dream." The old guy kept on talking, explaining how he wanted to replace his sled with a lightweight canoe. He was convinced that the lightweight combined with a sleek design would allow him to travel faster with the added benefit of requiring less energy thus allowing longer flights between rest stops. His exact words were " We ought to be able to make that baby really fly".
"I need a large capacity hull designed for speed and fantastic voyages, what would you suggest?"
"There is only one choice" I replied. "The ITASCA from WE-NO-NAH."
"Great, were can I get one?"
"Well it just so happens that I have one on the rack outside. I hope you like red."
"PERFECT" he said, "I'll be back for it tomorrow." Before I could utter another word, he was gone. Vanished into thin air.
The whole next day was a farce, my mind never quite got past that dream. When I pulled into the driveway at the end of the day, I noticed that a canoe was missing from the rack. A very expensive one. I rushed inside and as I was about to speak, my wife handed me a stocking full of cash. She said, "A nice old gentleman named Nick stopped by and picked up the red canoe. He said you guys had worked out a deal. He seemed quite pleased and said now that his business was modernized and efficient he planned on spending some time actually paddling his new canoe." Until next time, Merry Christmas and Happy Paddling.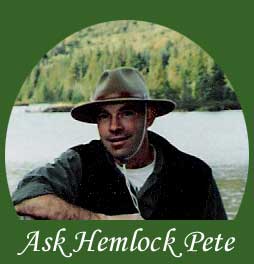 Have a question? I'm happy to answer it - just email me at hpcanoes@gmail.com


hpcanoes@gmail.com
603.667.5112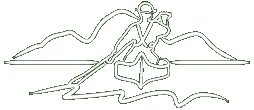 Welcome Paddlers! Whether you are a beginner, intermediate, or expert paddler, Hemlock Pete's Ultralight Canoes and Kayaks can help you chose the right equipment so you are ready to achieve your goals - be they for quiet water, rapids, racing, day trips, or camping.

We specialize in ultralight solutions and offer expertise in canoes, kayaks, and Wee Lassie boats, as well as all the related equipment. Our favorites are Wenonah canoes and Wee Lassie boats. Although we will work with any material we like to get folks set up with lightweight canoes and kayaks so you can dedicate your time to the joy of being out on the lakes and rivers instead of struggling to move your boat between car and water.

Scott Edwards, "Hemlock Pete" himself, offers you decades of paddling expertise. He is friendly, down-to-earth, and provides superior customer service. You won't find a better, or more pleasant, deal elsewhere.