The Old and the New, A puppy in a Canoe
Recently a gentleman I know decided he would like a kayak. Noticing I had a used one for sale he contacted me and asked if I would like to trade. "Not really", I said as I was trying to reduce the size of my fleet. He insisted and offered up a 1929 wood canvas Old Town Guide model canoe, a real classic. I said to him that this was certainly not a fair trade. His canoe was worth at least twice the value of the kayak and I would not feel right taking it. I suggested he sell the canoe himself and then come see me. He agreed and I assumed that was the end of the conversation.
A day later he called back and said he had thought it over and simply wanted to make an even trade. Maybe because canoes do not sell well in October, or he didn't want to miss the kayak I had for sale, but most likely his wife said no new boats until he unloaded one (been there on that one). What to do... I agreed to the swap.
I was now the owner of this classic northern Maine guide canoe. When he delivered it I was briefed on its history. The canoe was originally sold to Kuwiyau Camp located in Meredith, NH for $71.00. It then ended up with the Dartmouth Outing Club. At some point in the '50's an old Maine Guide took over responsibility for the college canoe trips and preferred 20' models over the 18' version and the canoe was sold to Lee. Lee spoke of it lovingly as he described using it with his family as the kids grew up. Eventually it became too heavy and was retired to the garage and replaced with a newer light weight model.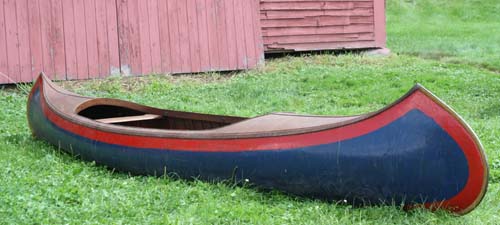 Now, as my wife could have predicted, I have added it to my personal collection of antique canoes. So there it sat on my front lawn on one of those cold, extremely windy, rainy fall days we had. I half heartedly tried to entice someone to join me in a test ride to no avail and then it hit me. How about Emma? Emma, a cute, feisty 4 month old Australian Shepherd mix belonging to my mother in law didn't hesitate when I asked her to join me. She simply launched herself into the van for the ride up to French Pond. With a bit of strain (canoe weighs close to 90 lbs) I tossed the canoe up on the roof racks and we were off.
Once at the pond I first needed to introduce Emma to "water", something she has never experienced. Sneaking up to it she would sniff, then leap backwards and spin around for another approach, as if she was stalking some sort of prey. She would prance parallel to the waters edge totally alert to anything that moved or made the slightest sound. While she continued her investigation of this new medium I went back to the van for the canoe and gear. She became extremely startled as I approached carrying the canoe on my shoulders. Another sight she has never seen.
Once on board she was quite calm and proceeded to check out the entire 18' of wooden ribs and planks. I hopped in and shoved off from shore. Emma did not seem to notice that she was now afloat and under motion. I took a position kneeling about 1/3 the length up from the stern way to the right side of the canoe. Facing almost sideways with both knees in the chine the canoe was tilting towards its side. This is a very traditional method of solo paddling a canoe.
At some point Emma realized that something was up and she was no longer on shore. She quickly scampered back to my position and stayed close. First in front and then behind, moving almost continuously 360 degrees around me but never getting more than a few feet away. Several times she actually climbed up and over my back, and once comfortable with this, attempted it from front to rear. Enough is enough. While all of her movement was bearable it did make paddling a bit awkward, but oh so much better than raking the lawn.
For the next hour or so we slowly toured the familiar ins and outs of the perimeter of French Pond. Emma slowly gained more courage and explored farther up and down the confines of the canoe. She preferred standing up on the gunwale with her front paws and sniffing the passing breeze, even getting brave enough to dip down for a drink of water albeit almost falling over board.
Yes I am a big fan of modern canoe materials but it is tough to beat one of the old classics. They have a stately presence all to themselves, moving effortlessly through their own element. Even people who know nothing about canoeing are taken with the scene of an old wooden canoe on a picturesque body of water.
All too quickly our tour of the pond was complete. Now an old pro when we reached shore Emma casually leaped out of the canoe and waited for me to follow. The water was now her friend as was the canoe. The old and the new, a puppy and antique canoe. Until next time, HAPPY PADDLING!!!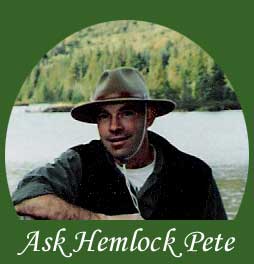 Have a question? I'm happy to answer it - just email me at hpcanoes@gmail.com


hpcanoes@gmail.com
603.667.5112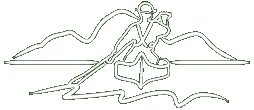 Welcome Paddlers! Whether you are a beginner, intermediate, or expert paddler, Hemlock Pete's Ultralight Canoes and Kayaks can help you chose the right equipment so you are ready to achieve your goals - be they for quiet water, rapids, racing, day trips, or camping.

We specialize in ultralight solutions and offer expertise in canoes, kayaks, and Wee Lassie boats, as well as all the related equipment. Our favorites are Wenonah canoes and Wee Lassie boats. Although we will work with any material we like to get folks set up with lightweight canoes and kayaks so you can dedicate your time to the joy of being out on the lakes and rivers instead of struggling to move your boat between car and water.

Scott Edwards, "Hemlock Pete" himself, offers you decades of paddling expertise. He is friendly, down-to-earth, and provides superior customer service. You won't find a better, or more pleasant, deal elsewhere.