Encounter With a Moose
A comment on common sense, remember people it is spring time and the water is cold. Rivers and streams may be running fast depending on the amount of rain fall we receive. It is a great time to be on the water, however, if you do not know what you are doing and/or do not respect the power of Mother Nature you are flirting with disaster. I have already cut my first article out of the paper "DIVERS FAIL TO FIND MISSING CANOEIST - Divers and other searchers yesterday failed to find a man feared drowned after a canoeing accident." Please do not let the next article be about you!!!
Now on to a short story. I haven't been writing for several years, that does not mean however that I haven't been paddling. Albeit not as much as I would like. Unfortunately there is never enough time for that. Last May on the St. Johns River in Maine's Allagash Wilderness Area, I had a unique close encounter with a moose.
After a day of paddling on the river we had stopped at Nine Mile Bridge to camp. After unloading the canoes, three of us, Sue, Dan, and myself were relaxing in a nice flat grassy area. I was lying on the ground with my head propped up on my pack, as was Dan who was 30 ft. to my left. Sue was 75 ft. directly behind us standing at a picnic table brushing her hair. After only a few minutes of relaxation a young bull moose sauntered into our campsite in front of Dan and I. I would guess it weighed in the vicinity of 700 lbs. Everybody froze and watched as it stood at the edge of the woods only 50 ft. from me. It sniffed the air and jockeyed in and out of the woods several times. You could tell he wanted to come over and visit but just wasn't quite sure if it was the proper thing to do with out an invitation. Eventually in a lackadaisical manner he wandered over in my direction. None of us dared even breath. He kept looking at me, then Dan, and then Sue. You could tell he wasn't quite sure what to make of us. His curiosity finally over came his bashfulness and he walked directly over to me and stood at my head, perpendicular to my body. I did not move and truly was not scared, although I was planning my escape route if one became necessary. He stood there a minute and checked me out from head to toe, twitching his ears and occasionally the skin on his back to rid it of flies. Then all of a sudden, he lowered his head towards mine, I assume to get a better look and/or smell. When his nose and mine were within a foot of each other, I began to get a little tense. He and I were eye to eye. I could actually count the black flies in his nose. When he came a few inches closer it became very interesting. My eyes I am sure became very large as did his. I began to raise slightly and roll away. At the same time he realized that I was alive and definitely was not a fellow moose.
The only way to describe the situation at this particular point is to have you envision a scene from a Scooby-Doo cartoon. The expression on his face was priceless. "Rut Ro" (uh-oh in Scooby-Doo language). He snapped his head back and all four legs went in different directions. Dust and dirt went flying and so did I. When all four of his feet got headed in the same direction he bolted behind me like he was shot out of a cannon. Head down, ears back and headed, headed somewhere other than here. Poor Sue jumped up on the table as he flew by. I dove into my pack, grabbed my camera, and rushed off behind him down to the river to get a picture. It couldn't have taken me more than 30 seconds. By the time I got to the water, he was a good half mile away and still moving with a purpose. Occasionally he would turn around for a look but never broke stride. The encounter made for some very interesting conversation around the fire that evening.
Happy Paddling!!!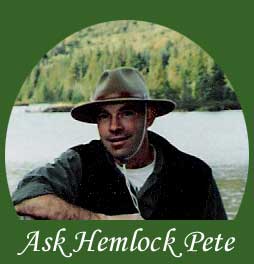 Have a question? I'm happy to answer it - just email me at hpcanoes@gmail.com


hpcanoes@gmail.com
603.667.5112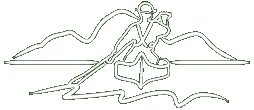 Welcome Paddlers! Whether you are a beginner, intermediate, or expert paddler, Hemlock Pete's Ultralight Canoes and Kayaks can help you chose the right equipment so you are ready to achieve your goals - be they for quiet water, rapids, racing, day trips, or camping.

We specialize in ultralight solutions and offer expertise in canoes, kayaks, and Wee Lassie boats, as well as all the related equipment. Our favorites are Wenonah canoes and Wee Lassie boats. Although we will work with any material we like to get folks set up with lightweight canoes and kayaks so you can dedicate your time to the joy of being out on the lakes and rivers instead of struggling to move your boat between car and water.

Scott Edwards, "Hemlock Pete" himself, offers you decades of paddling expertise. He is friendly, down-to-earth, and provides superior customer service. You won't find a better, or more pleasant, deal elsewhere.