Wolves In Labrador
If you know anything about me at all, besides the fact that I am a fanatic about canoeing, it would be my fascination with Labrador. I have written about it more than once and will certainly continue to do so in the future. While I have never actually set foot in the region I feel like I have been there numerous times. This familiarity comes from the many books I have read and first hand accounts from friends who have crisscrossed the Province on several expeditions.
With my canoes stored for the winter my paddling activities have taken to dreams as I pour over maps and wallow through books and magazines related to canoeing. I just finished reading; again, a book entitled "Great Heart" written by my aforementioned friends. The subject: Labrador, of course.
My appetite for Labrador is especially strong this year as there is a possibility I may be headed there this summer. My friends are planning a trip to return to an area they explored while researching "Great Heart". Two weeks paddling on the George River, north towards Ungava Bay. They have not been there for some 20+ years. The idea for the trip was presented last spring at a paddling weekend on the Upper Hudson River in North River, NY. John and Jim, the authors, and a host of paddling partners and family gather at Garnet Hill Lodge for the annual Hudson River White Water Derby. I think this is one of the oldest canoe races in the United States. While a great deal of time is spent on the water, more effort is expended, eating, drinking, and telling tales of past adventures. A special treat this past year was viewing some recently found, never before seen, film taken on the George River in the mid '70's. The main characters were water, sand, rock, stunted trees, caribou, and a beaver. Supporting actors were Jim, John, and Sam. Viewing the films brought out many memories and tales. One in particular comes to mind.
The trio was paddling on the George River, north, down stream from Indian House Lake to the Hudson's Bay Trading company outpost on Ungava Bay in the Artic Ocean. The tides on the coast in this region are quite impressive ebbing and flowing some 40, in elevation. As you would expect as they approached the coast the tide was out. From the trio's vantage point on the river, there was no way to see up over the bank to determine whether they were at the post or not. Some one would have to make the trek up the slope, through the mud to see if the post was indeed on the horizon. Sam, being the youngest, quickly got elected. The canoes were beached and while John and Jim sat smiling comfortably at the waters edge, Sam began the long, arduous climb in knee-deep mud to the top of the rise. According to all 3 when Sam was approx. 100 yds away they all caught a glimpse of something running towards him in a very deliberate manner. Sam immediately recognized the creatures as a pack of artic wolves. Thinking quickly, knowing he would never make it back to the canoes, he grabbed his knife, held it up, and yelled something at his would be attackers. To his surprise they stopped and all sat down looking at him while they panted. To his delight, the ferocious wolves turned out to be sled dogs from the HBC post. While this was a nice surprise for Sam it had the potential to not be as pleasant as one might think. True northern sled dogs are rather wild creatures and have more than once attacked humans, especially young children. In this instance, what ever it was Sam said convinced his potential dinner guests that he would not be a good meal.
Until next time, HAPPY PADDLING!!!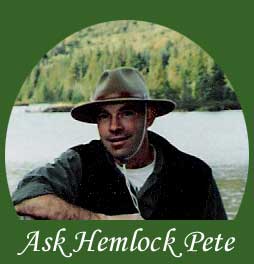 Have a question? I'm happy to answer it - just email me at hpcanoes@gmail.com


hpcanoes@gmail.com
603.667.5112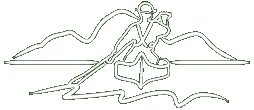 Welcome Paddlers! Whether you are a beginner, intermediate, or expert paddler, Hemlock Pete's Ultralight Canoes and Kayaks can help you chose the right equipment so you are ready to achieve your goals - be they for quiet water, rapids, racing, day trips, or camping.

We specialize in ultralight solutions and offer expertise in canoes, kayaks, and Wee Lassie boats, as well as all the related equipment. Our favorites are Wenonah canoes and Wee Lassie boats. Although we will work with any material we like to get folks set up with lightweight canoes and kayaks so you can dedicate your time to the joy of being out on the lakes and rivers instead of struggling to move your boat between car and water.

Scott Edwards, "Hemlock Pete" himself, offers you decades of paddling expertise. He is friendly, down-to-earth, and provides superior customer service. You won't find a better, or more pleasant, deal elsewhere.